Horizontal displacement measurement
Vertical displacement measurement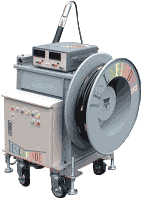 As for this manufacture, there are horizontal displacement measurement and vertical displacement measurement. These measure displacement of crack width, but cannot measure a crack width.
We developed magnetism sensor with directivity.
We developed magnetism sensor and transducer of high-sensitivity.
We succeeded in development of this sensor, and the TESLAFINDER was completed.
We investigate ironware with body. For example, it is pile, burial of an antenna tube, screening machine, an unexploded shell.
A HIBIMIRU for level measures displacement of crack width and elongatedness between member subject.
The movement that we can measure is movement of the same a plane. ( In case of vertical wall, over and under, or right and left )
A HIBIMIRU for verticality can measure difference of a plane of vertical direction.